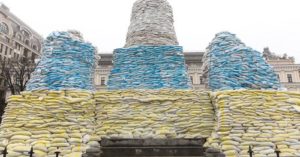 Since the invasion of Ukraine by Russian forces on February 24th, 2022, cultural heritage –  monuments, sites, archives, objects, sacred spaces, and collected traditions – has been under threat, as collateral damage and resulting from deliberate targeting.
In March 2022, eight of Canada's leading heritage organizations came together to form the Canadian Coalition for Cultural Heritage in Ukraine.
Check out the new website to find out more about the coalition, our partners, and our work streams.