Nominate someone today: ICOM Canada's International Achievement Award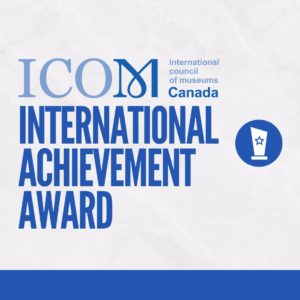 ICOM Canada will present the International Achievement Award for 2023 at our Annual General Meeting this year. This award honours a Canadian museum professional who has demonstrated and promoted excellence in Canadian museology on an international scale. This award recognizes the outstanding contribution of knowledge and expertise towards the advancement and support of museology worldwide.
Deadline: April 30, 2023
To be eligible for this award, the nominee must be an ICOM member in good standing and must have worked in a Canadian institution. An ICOM member who is familiar with the nominee's achievements must make the nomination.
Nominees must have done the following:
· Played a significant role in putting Canadian museums on the world stage.
· Developed and supported international cooperation, collaboration, and partnerships.
· Contributed to the expansion of links between Canadian and international museums.
· Fostered and promoted Canadian museology internationally.
For more details and nomination instructions visit: icomcanada.org  
ICOM Canada Travel Bursary Program
Deadline: April 30, 2023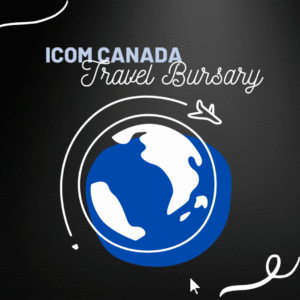 As a way to help emergent museum professionals in building networks and lasting connections, ICOM Canada provides an annual Travel Bursary to support the participation of a graduate student or an emergent museum professional (with less than 5 years of work experience) to the annual ICOM conference or to any meeting of ICOM's international committees.
ICOM-Canada will provide up to $1500 to cover costs related to conference registration, travel, accommodation, and local transportation, as well as a per diem allowance for meals. It is expected that applicants will seek additional funding through their university or employer. One applicant will be selected each year. The bursary will be awarded by an adjudication committee formed by the board of ICOM Canada.
Note: The award can be used to cover costs for virtual or physical attendance.
Eligibility
The applicant must be:

a Canadian citizen or resident, and;
A student enrolled in a graduate program in an accredited university (Canada or abroad) or an emergent museum professional with less than 5 years of work experience.
We welcome applications from students in diverse disciplines addressing issues related to museology, including, but not limited to, intercultural museology, museums and the Web, information technologies, collections management, museum administration, intangible heritage.
Individuals are only able to receive one ICOM Canada Travel bursary in their lifetimes, but may reapply if unsuccessful.
For more information, please download the ICOM Travel Bursary information package PDF.
Travel Bursary Reports