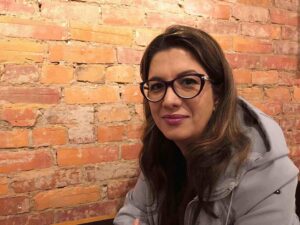 We are happy to announce our International Achievement Award Winner – Dr. Shabnam Inanloo Dailoo who is the Associate Professor and Director of Heritage Resources Management at Athabasca University. She has two decades of national and international experience in heritage conservation theory and practice.
Shabnam holds a PhD in Environmental Design from the University of Calgary. She completed her post-doctoral research with the Canada Research Chair on Built Heritage at the Université de Montréal. Her current research examines the existing policies, guidelines, and procedures in the conservation and management of World Heritage sites; heritage education in Canada; and heritage documentation and conservation and climate impact.
Shabnam coordinated the 2022 ICCROM International Summer School on Teaching and Communication Skills in Conservation and Science. She is the Co-Chair of the National Roundtable on Heritage Education and the Canadian Chapter of the Association of Critical Heritage Studies. She was a board member of ICOM Canada and currently serves as a governor of the National Trust for Canada, a board member of ICOMOS Canada, and a member of the ICOMOS International Scientific Committee on Education and Training (CIF), and the ICOM International Committee for the Training of Personnel (ICTOP). She is Athabasca University's focal point for the Climate Heritage Network.